Owners Information
Owners Information

FAQ's
Condominium rental rates are as follows:

June 1, 2019 through September 30, 2019

Studio Weekdays; $179 / Weekends $209

One BR Weekdays; $209/ Weekends $239

Two BR Weekdays; $239 / Weekends $279

Three BR Weekdays; $389/ Weekends $459

One BR units will sleep 4 people

Two BR units will sleep 6 people.

Three BR units will sleep 8-10 people
October 1, 2018 through May 31, 2019

Studio Weekdays; $149 / Weekends $179

One BR Weekdays; $179/ Weekends $209

Two BR Weekdays; $209/ Weekends $239

Three BR Weekdays; $299/ Weekends $349

Two Night Minimums apply to Holidays, Special Events and Special Seasons.

Rental of the units is assigned on a rotating basis among available units or by request.

Management charges Rental Pool Members a Cleaning Fee of $50 for a 1 bedroom, $65 for a 2 bedroom and $95 for a 3 bedroom for each stay while in rental pool. A pet fee of $25.00 is charged for Rental Pool Members who wish to bring their pet.

Management charges Non-Rental Pool Members a check in fee of $25.00 for non-family guests.

Housekeeping services are available to Non-Rental Pool Members for a fee of $65 for a 1 bedroom, $95.00 for a 2 bedroom and $150 for a 3 bedroom.

Wi-Fi Internet access is available in the rooms and also in the lobby.

Property taxes average $275 per month

The prices vary depending on: patio access - 6 units 113-118 have direct access - others walk around the building, distance from elevator and clubhouse, view from condominium is Marina, Bay and Ocean Peek.

Common areas are on the patio and in the clubhouse above lobby – features can be reserved for special events.

Mail service in the office.

Garbage service at dumpster.

1BR units have 705 sq. ft. floor space

2BR units have 816 sq. ft floor space

All 1 & 2 BR units have 1.5 baths

Contact Info

Dee Shannon

General Manager

541-574-6777

dee@thelandingatnewport.com

www.thelandingatnewport.com
HOA Fees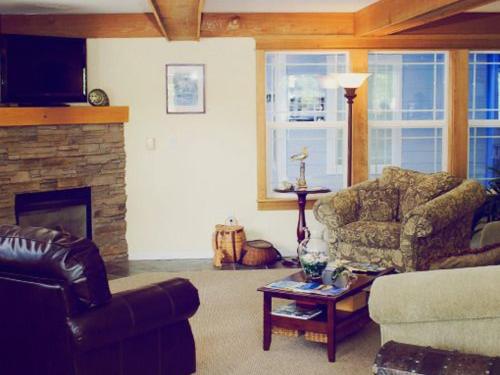 1 BD per month $378.00

2 BD per month $420.00

3 BD per month $798.00

STUDIO per month $288.75

Includes: Water, Sewer, Garbage, N.W. Natural Gas, Electric, Cable TV, Flood Insurance, Hazard Ins., and Outside Maintenance.
Property Uses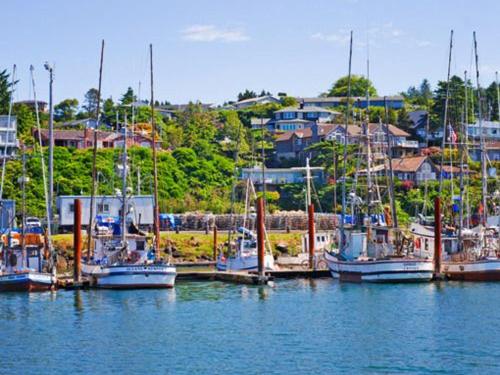 The site is zoned W-2/"Water Related" and has been improved with the construction of The Landing at Newport, a 57-unit condominium/hotel/motel development (the "Project"). Hotels and residences are conditionally permitted uses in the W-2 zone and a conditional use permit (No. 10-CUP-98) allowing operation of the 56* unit condominium / hotel on the site were approved on March 8, 1999. There is no limit on how many of the 56 units can be used for short-term occupancy or hotel / motel use, which is defined as any occupancy for a continuous period of less than 30 days. . Nonetheless, the long-term occupancy or residential use is limited to 15 units. All remaining units are restricted by Conditional Use Permit and cannot be a permanent residence.
An unforgettable experience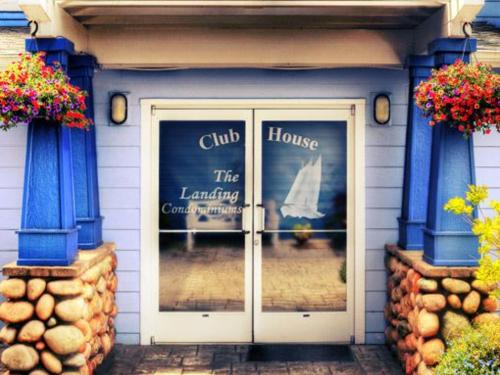 The Landing at Newport was developed in the year 2000 as a 56 unit Condominium-Hotel, also known as a hotel-condo or condotel, and is now one of Newport's premier properties. The concept combines a resort style hotel operation with condominium ownership. The Landing at Newport is self-managed and provides its guests and owners with a 24 Front Desk, full housekeeping and maintenance services. The amenities consist of a large patio with a gazebo, BBQ's, crab cookers, a spectacular view of the Yaquina Bay and Bridge, and sufficient seating for a large event of up to 75 persons.

Each guest and owner will also enjoy Free Wifi, cable television with three premium channels, a fitness center, business center, conference room, movie rentals, newspaper, a friendly and professional staff, and much more. Secure underground parking with elevator service is available to all guests and owners. The Landing is a pet friendly property with deposit and daily fees, although with limited availability. Guests must call in advance for reservations. Whether your visit is for business or pleasure, one night, one week or a month, you will always want to return to The Landing at Newport for an unforgettable experience.
The Landing at Newport is so much more than just a place to stay on the Oregon Coast - it is a true experience. Tucked carefully away in Newport's historic bayfront, the Landing offers guests a panoramic view of all that the bayfront has to offer.
Welcome to peace and beauty...
of The Landing at Newport. From glorious sunrises to magnificent sunsets, you will experience an ever changing, always breathtaking view of the Yaquina Bay and Bridge. The Landing at Newport offers modern clean, comfortable and fully furnished accommodations, which include 1 ½ baths, fully equipped kitchens, washer/dryers, dining area, living room with gas log fireplace and a private balcony from which you will enjoy the sights and sounds of Newport's spectacular Yaquina Bay.

Conveniently located at the east end of the Historic Bay front you will follow the Fisherman's Memorial Walkway past one of Oregon's leading commercial fishing fleets to nearby shopping, fine dining and many local attractions. Whether you spend your day doing business, beachcombing, crabbing, sightseeing, or visiting the Oregon Coast Aquarium, you will want to end your day relaxing in the comfort and privacy of your home away from home at The Landing at Newport.